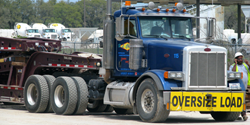 TxDMV issues an annual envelope permit for the movement of non-divisible vehicles and loads exceeding Texas legal size and weight limits that fall within specific envelope dimensions and weight. This permit is an annual permit that expires one year from the effective date.
Oversize and/or overweight equipment operating under this permit may not exceed:
Width - 12'
Height - 14'
Length - 110'
Weight - 120,000 lbs. gross weight
NOTE: You must verify the size and weight limits needed BEFORE seeking a special permit.
Operating Authority Requirements
Prior to being issued a permit, you must comply with TxDMV Motor Carrier Registration (MCR) or Unified Carrier Registration (UCR). If not required to have TxDMV MCR or UCR, you must have a permit bond in the amount of $10,000 on file with TxDMV.
Additional Requirements
You are responsible for routing and obtaining current restrictions prior to movement. Active time permit holders may use TxPROS to generate free routes for loads moving under their time permit.
You may also:
Payment information must be provided with the permit application.
Fees & Payment Information
The annual permit fee is $4,000. Fees are payable by:
MasterCard, VISA, Discover or American Express (a service charge of 25 cents per permit plus 2.25 percent will be added.)
Automated Clearing House (ACH) – Electronic Check (only accepted when ordering online through TxPROS)
Personal check, business check, cashier's check or money order, payable to the Texas Department of Motor Vehicles
Cash (MUST be delivered to a TxDMV Regional Service Center)
A permit fee will not be refunded after the permit number has been issued unless such refund is necessary to correct an error made by the Motor Carrier Division.
More Information
General escort and equipment requirements apply to both permitted and escort vehicles.
A single-trip permit may be purchased to be used in conjunction with an annual envelope permit to increase height or width limits. Length and weight limitations cannot be increased.
Review your permit for specific curfews and conditions that apply to your load and movement.
Permit may not be amended or transferred between vehicles or permittees.
Permit is non-transferable between companies or vehicles, unless:

The permitted vehicle is destroyed or otherwise becomes permanently inoperable to an extent that it will no longer be utilized and the permittee provides proof that the negotiable certificate of title or other qualifying documentation has been surrendered, or
The permittee provides proof that the certificate of title (or other qualifying documentation) to the permitted vehicle is transferred to someone other than the permittee.